Paperbacks in the Time of Pandemic
Posted on 19/03/2020
In the current climate, posting about books on the internet – which is, after all, an increasingly large part of our job – can feel somewhat disconcerting, as if we should be ceasing anything resembling "frivolity" and concentrating on retweeting medical advice; graphs and predictions; heartfelt pleas to small sections of the general public to stop thinking only of themselves and consider the more vulnerable around them.
But while all those things must take priority, we feel that we should not stop shouting about our authors and their books.  For one thing, writing is a livelihood like any other, and one that has proven rather susceptible to the current state of emergency – particularly for those with books released now, with launches and tours they have been forced to call to a halt, not to mention the wall-to-wall cancellations of literary festivals.  For all the general perception that a good chunk of authors live with Julia Donaldson or Lee Child-like security, the fact of the matter is that the vast majority of writers make huge personal and financial sacrifices to continue in the career they love, and for those writers, every book sale, every author signing, counts.
Yet there's another reason.  In a world where 24-hour access to news broadcasts, scare-tweets, and frightening predictions about the monstrous scale of the pandemic is not just possible, but a daily reality for a lot of people, those with underlying mental health disorders can find it hard to cope, particularly when forced into self-isolation. Shutting out the unsettling nature of our current reality for a few hours can be, in some cases, as important to overall health as hand-washing and social distancing.
And so we have decided to highlight the paperbacks published by our authors today – both for their sake, and for the people who might find solace in them. We hope you think we have made the right decision – and please, in these difficult times, buy from your local bookshop (most of whom are offering telephone ordering/delivery) or click the covers below to order online from Hive.
David Barrie – INCREDIBLE JOURNEYS
The Sunday Times Nature Book of the Year
"David Barrie, who himself has sailed the oceans using a sextant, is passionate about navigation and describes in delightful detail the myriad ways in which animals get around… eye-opening book" – New York Times
"A compelling investigation of navigation in the animal kingdom" – Mail on Sunday
"Only a sailor could relate the navigational powers of both humans and animals with such appreciation, excitement, and precision. Thank you, David Barrie, for taking us along on these riveting voyages by sail and wing, hoof and flipper. We arrive surprised, delighted, and awed." Sy Montgomery
Dan Richards – OUTPOST
There are still wild places out there on our crowded planet.
Through a series of personal journeys, Dan Richards explores the appeal of far-flung outposts in mountains, tundra, forests, oceans and deserts, and asks: why are we drawn to wilderness?
"Richards' prose is by turns beautiful, funny, evocative and learned, the pages illuminated by lovely, warming footnotes… His voice is vivid, self-deprecating, literary and very, very funny" – Observer
"There's a special magic in Richards' luminous descriptions of nature and place… A thoughtful and beautiful meditation on our quest to find spaces in which we can find something unexpected in ourselves and forge a new relationship with the natural world" – Guardian
Nick Jubber – EPIC CONTINENT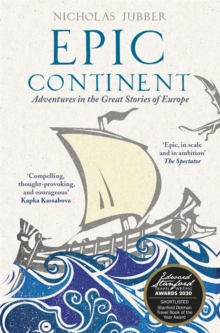 In these tales soaked in blood and fire, Nick Jubber discovers how the world of gods and emperors, dragons and water maidens, knights and princesses made our own: their deep impact on European identity, and their contemporary resonance… to learn how they were shaped by their turbulent times, and how they have since shaped us.
"A thought-provoking treatise interwoven with blistered-feet-on-the-ground accounts of spots both pretty and gritty" – National Geographic
"Compelling, thought-provoking, and courageous, this epic-poetic journey peels back layers of collective emotional and imaginative inheritance. Jubber gets under the skin of our complicated continent and his timing is dead right" – Kapka Kassabova
"An original and thoroughly absorbing book by a travel writer of immense ability" – The New European
Violet Moller – THE MAP OF KNOWLEDGE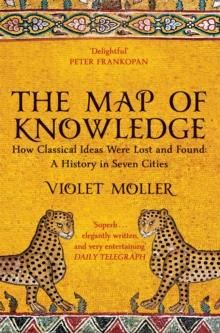 Violet Moller traces the journey taken by the ideas of three of the greatest scientists of antiquity – Euclid, Galen and Ptolemy – through seven cities and over a thousand years. Vividly told and with a dazzling cast of characters, The Map of Knowledge is an evocative, nuanced and vibrant account of our common intellectual heritage.
"Superb… Ambitious but concise, deeply researched but elegantly written, and very entertaining, this is popular intellectual history at its best" – Daily Telegraph
"A sumptuous, glittering, endlessly fascinating book, written with passion, verve and humour" – Catherine Nixey
"Violet Moller brings to life the ways in which knowledge reached us fr in a book that is as delightful as it is readable" – Peter Frankopan
Ursula Buchan – BEYOND THE 39 STEPS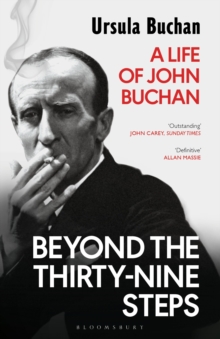 John Buchan's name is known across the world for The Thirty-Nine Steps. The classic thriller has never been out of print and has inspired numerous adaptations for film, TV, radio and stage, beginning with the celebrated version by Alfred Hitchcock.
Yet there was vastly more to 'JB'… He was a scholar, antiquarian, barrister, colonial administrator, editor, critic, publisher, war correspondent, director of propaganda, MP and imperial proconsul – given a state funeral when he died. With perception, style, wit and a penetratingly clear eye, his granddaughter – Ursula Buchan – brings vividly to life this remarkable man and his times.
"This magnificent biography leads us through that life with great style and understanding" – Alexander McCall Smith
"An outstanding biography… Though factual, it reads like a big Victorian novel, and takes you, as novels do, into other people's lives" – Sunday Times
~
Thank you for reading, and the very best of wishes to you and your loved ones at this difficult time, from all of us at FBA ❤